ACCU-POUR™ is a suite of productivity solutions that provide concrete producers intelligent mixers to help grow and scale their businesses profitably.
Revolutionizing The Industry
The ACCU-POUR™ suite can make an impact in every size operation, wireless and cloud-based, the tools provide a holistic view of your business operations, from up-to-the-minute to a yearly overview. Blend the big picture together with everyday details and gain complete control over your concrete through ACCU-POUR™.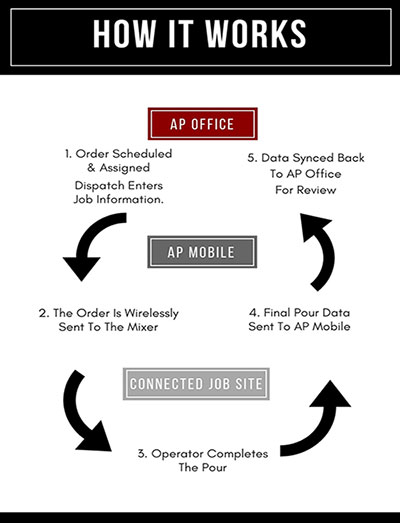 1. Customer Orders Concrete
2. Dispatch Enters Job Information Into AP Office
3. AP Mobile Receives Job Information and Wirelessly Sends To C60
4. Operator Completes Pour and Production Data is Sent to AP Office
5. AP Office Receives Ticket Info, Closes Out Job, Analyzes Data
Cemen Tech M Series & Other Volumetric Mixer Brands
Cemen Tech C Series
AP Office
Create & Schedule Orders
✔
✔
Manage Multiple Job Orders
✔
✔
Fleet Tracking
✔
✔
Custom Reporting with Excel Export
✔
✔
View & Assign Synced Mix Design from Mixer Fleet
―
✔
Live Job Status
―
✔
Unassigned Ticket Management
―
✔
Compare Ordered vs. Actual Ticket Data
―
✔


AP Mobile
View Daily Orders
✔
✔
Google Map Integration
✔
✔
Add Jobsite Pictures
✔
✔
Record Final Pour Data
✔
✔
Send Orders to Mixer via Tablet
―
✔
Final Pour Details Sent Back to Tablet
―
✔
Track Every Yard
―
✔
Learn More
Learn More